Walter Crane Swan, Rush And Iris Art Nouveau Lamp Shade
Walter Crane Swan, Rush And Iris Art Nouveau Vintage Art Walter Crane was an English artist and book illustrator. He is considered to be the most influential, and among the most prolific, children's book creator of his generation and one of the strongest contributors to the child's nursery motif that the genre of English children's illustrated literature would exhibit in its developmental stages in the latter 19th century. This is one of Walter Crane's earliest designs for wallpaper. Flowers and animals were the most common decorative elements of The Arts and Crafts Movement. Art by Walter Crane Movement: Art Nouveau Beautiful artistic vintage floral fine art painting animal art. See more of our Walter Crane gifts.
Freshen up your space and complement your ever-changing decor with a custom lamp shade from Lamp-In-A-Box. Choose the material, and trim color that matches your style.
Dimensions: 7" (diameter), 9.25" (height).
Choose from film polyester, rice paper, or linen.
Printed in vibrant color with archival ink.
Handmade in the USA.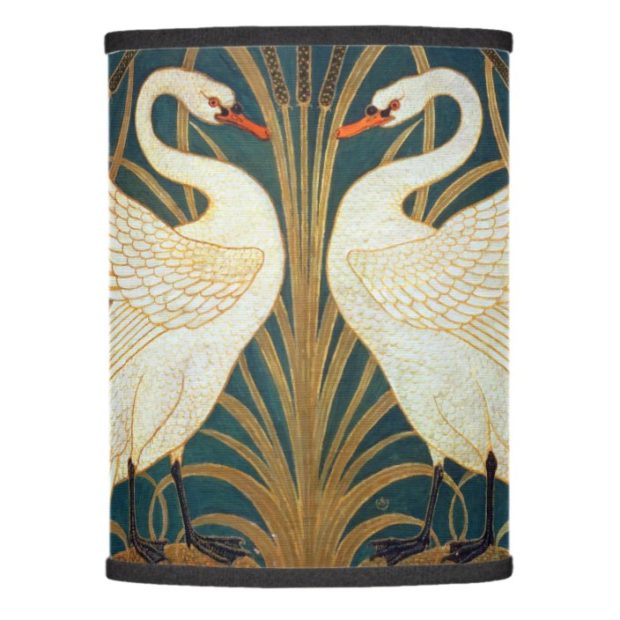 "I love the shade! It looks better in person! The image perfectly covers the diameter and it is seamless. However, the box it was shipped in got smushed and the shade caved in. When I popped it out the shade now has a visible crack. Bummed.
About the Print
I was nervous that it would have a digitized look, but not The case. It looks exactly like in the photo."